[FONT=Arial, Helvetica, sans-serif]
SN95 LED Gauge Cluster and HVAC Controls
[/FONT]
[FONT=Arial, Helvetica, sans-serif]
By: Trey - "TxCobrA98"
[/FONT]
[FONT=Arial, Helvetica, sans-serif]
www.sn95forums.com
[/FONT]
​
[FONT=Arial, Helvetica, sans-serif]
DISCLAIMER - I am not responsible for any problems (cluster failures, HVAC failures, shortages, electrical issues, personal harm to you or anyone else, etc...) from YOU attempting to do this LED swap. MY HOW TO article is to simply guide you through the process and help those that are unsure. I assume no responsibility if anything were to go wrong. However, I am responsible for all POSITIVE outcomes. =] This swap is very simple, just need basic knowledge and tools. You have been warned! If you wish to proceed, please continue, be safe and have fun!

After receiving about 5-10 PM's per day dealing solely with my 1998 Cobra's Gauge Cluster and HVAC controls, I have decided to write a "HOW TO" article. First and for most, I would like to clarify a few questions I have been asked. The gauge cluster and HVAC controls you will see in the following pictures or the first pictures are not aftermarket, not reverse-glo, not special edition or anything else. My gauge cluster and HVAC controls are the ones that were installed in my car from the factory.
Q. Now you might be asking, why do my gauges and controls look "bluer" or "brighter" than all of the other "stock" gauge clusters and HVAC controls?
A. I swapped out the stock "incandescent" bulbs in my cluster and controls with super bright "LED's."
Q. So what's the difference in the incandescent bulbs and LED bulbs and why does it make it appear blue?
A. Behind our clusters and HVAC controls lies a blue film (the film behind the number and dial cut outs are blue). An incandescent bulb emits a yellowish light (like most household bulbs that are incandescent). When you mix this yellowish light with a blue film, you get a green hue showing through the numbers of our clusters and dials of our controls. NOW, when you take the stock incandescent bulbs out and swap in their places the super bright, pure white LED's and mix it with the stock blue film, you get a BLUE hue. So white and blue = blue. Hopefully you get what im saying. That is why my gauge numbers and HVAC controls are now BLUE and not the stock green.
What you will need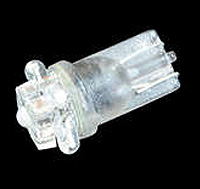 7
Super Bright White LED's - Socket 194/168 (sockets are the same, just different numbers)
I bought my LED's from
here
(mine are the WLED-x5 Wedge Based Bulbs)
For 1999 - 2004 Mustangs you need 74-xHP3. The "x" denotes a color code so for example if you order green it'll say 74-GHP3.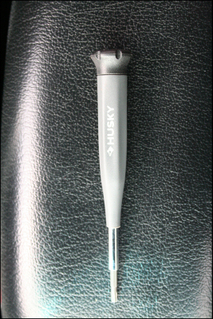 A T-15 Torx Screwdriver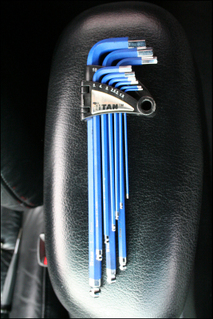 A 2 mm (i believe that's what it was) allen/hex wrench.
YOU ONLY NEED THIS IF YOU HAVE AN AFTERMARKET HEADLIGHT KNOB!
An 8mm Socket, Socket Wrench and a few LONG extensions.
YOU ONLY NEED THESE IF YOU ARE PLANNING ON DOING THE HVAC CONTROL LED SWAP!
MAKE SURE YOU UNPLUG THE NEGATIVE BATTERY CABLE FROM THE NEGATIVE BATTERY TERMINAL!
OK, so lets get started!
​
[/FONT] [FONT=Arial, Helvetica, sans-serif]
Step 1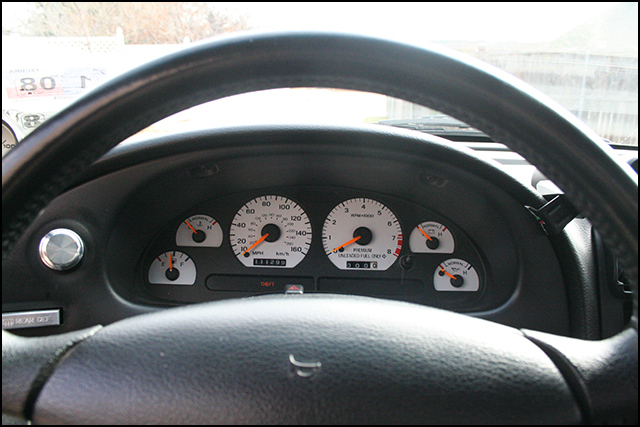 Start with your untouched gauge cluster.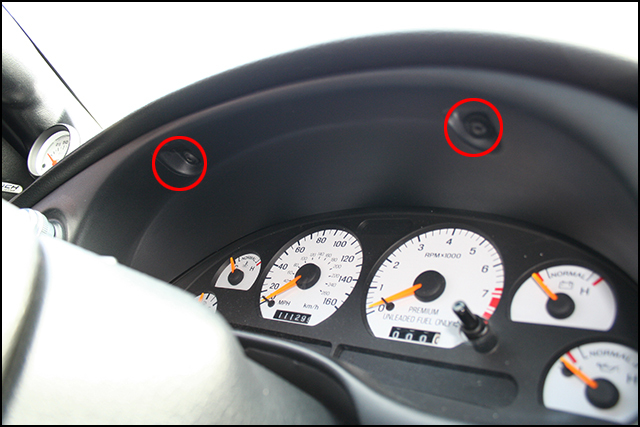 Remove the two T-15 Torx head screws.
Step 2
STOCK HEADLIGHT KNOB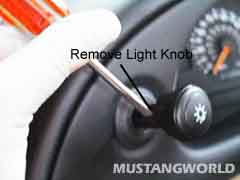 "You need to pull a retainer clip outwards (away from the shaft) and then pull this knob off gently." - MustangWorld.com
Aftermarket Headlight Knob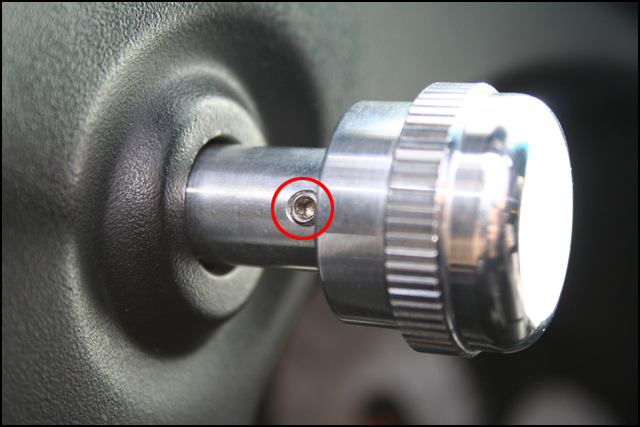 Remove the 2 mm Allen/Hex screw in the side of your Headlight Knob Switch
Step 3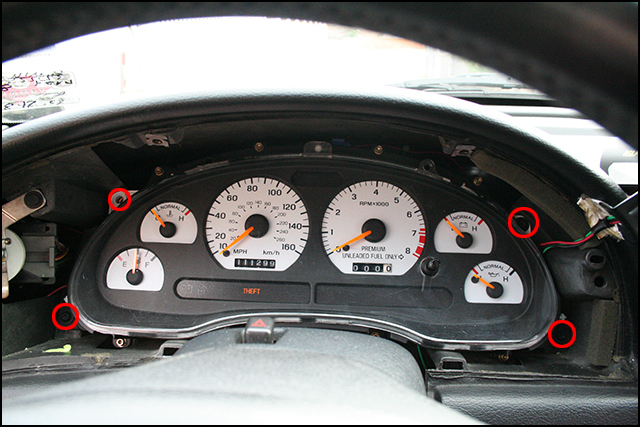 Once you have the knob taken care of, carefully remove the gauge clusters bezel (clusters surrounding piece). It will be stubborn more than likely but it should come out, just try not to break it! After the bezel is out, unscrew the four surrounding bolts to remove the cluster itself. They are again T-15 Torx headed bolts.
Step 4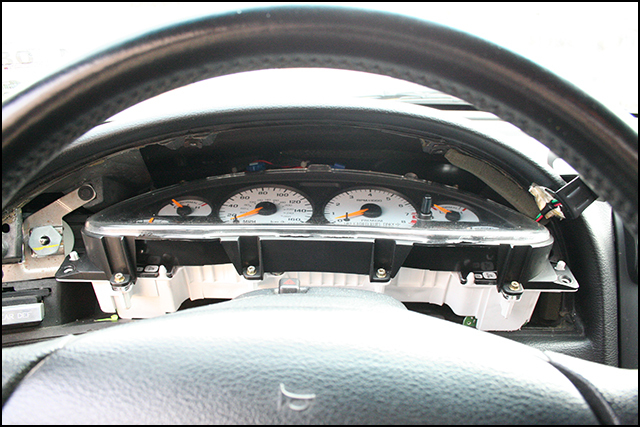 Tilt the cluster by bringing the bottom out first. (like you would be putting the gauge faces pointing upwards)
Step 4.1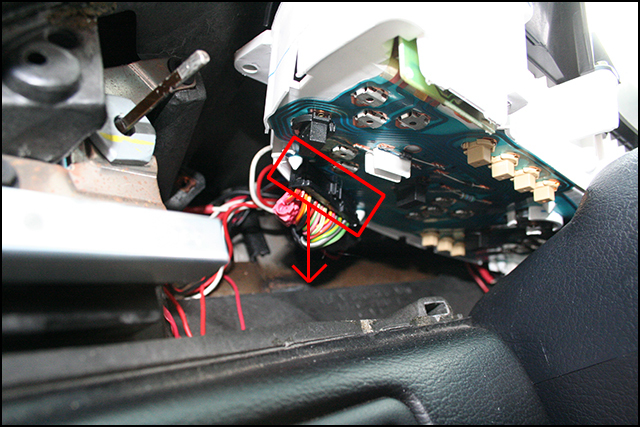 Remove the black connector that is connected into the back of the cluster. Carefully pull it straight back and out.
Step 4.2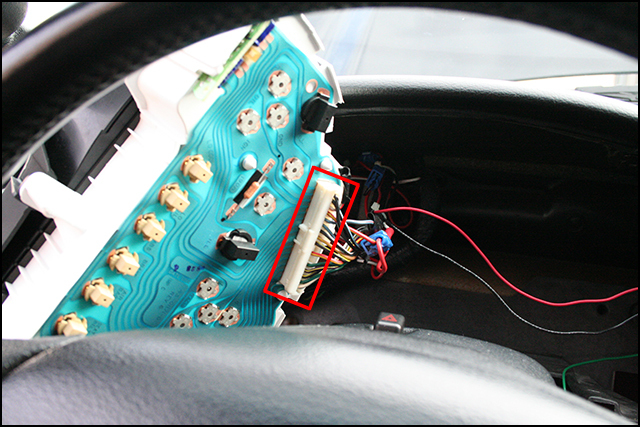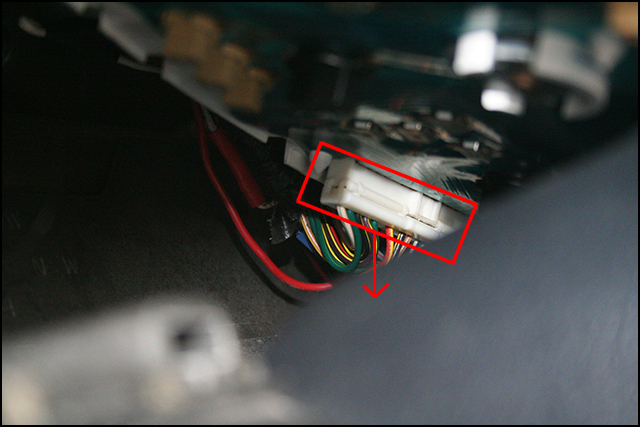 Notice the white connector on the opposite end of the gauge cluster. Just like the black connector, remove the white connector the same way. Carefully pull straight back and out.[/FONT]